Click the images below to view in Hi-Res Lightboxes.

Back in December, I caught the first three of the following four images (the fourth is from Excessive Wear). At the time I had no idea who whipped the heck out of their Laurel and tore up the passenger front and rear quarters, but I knew I needed to shoot their car after watching it blast to pieces in my general direction.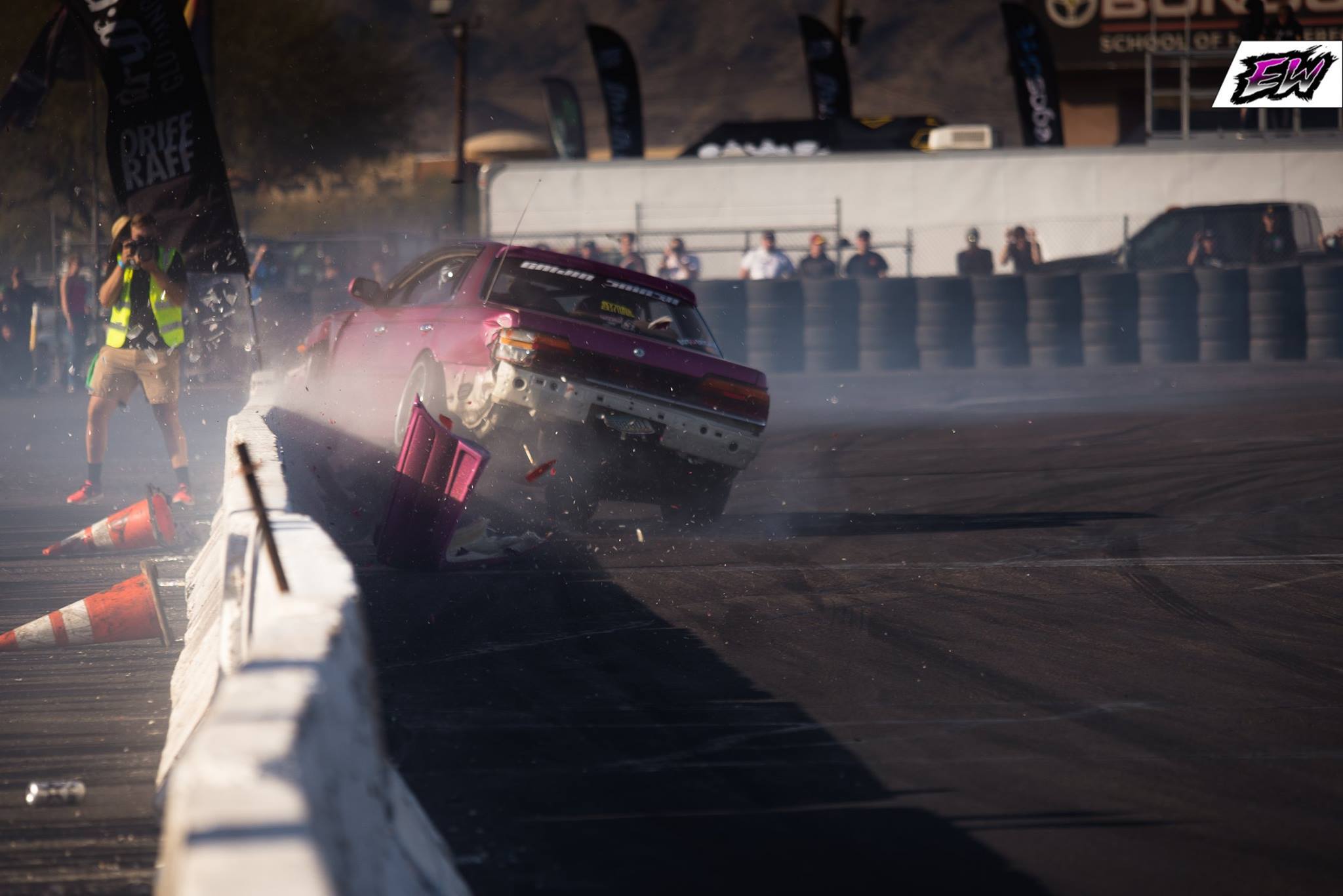 After combing through some photos and tags from the event, I linked up with Devon on Facebook and planned to shoot the next edition of his drift Laurel.
Gone were the clear windows, old wheels, and 'most' of the pink flaked paint - in came the Work Emotions, bright gold tint, and a fresh new paint job.
The black base coat provides a solid contrast for the massive amount of flake, while allowing for a fade back into the original signature pink on the pillars, roof, and mirrors.
At first glance - and even under close inspection - it's incredibly hard to tell the rails even took a toll on the car. Lots of time was spent straightening everything back out, hand-rebuilding missing pieces of the bumpers, and working on the new finish.
Interior-wise the modifications are driver-focused with the Bride seat, aftermarket steering wheel, and cage complete with friends' slaps along the roofline.
Our shoot spot of choice allowed for some great shots as the sun went down, but even with it being out in the country a bit I didn't want to cause too much of a ruckus by grabbing a burnout shot with the less-than-legal tint and whatnot.
Unfortunately I only shot the first of the two day Spirit of the Streets Vegas Drift event the following weekend, so I was only able to grab one shot before the Laurel ran into powertrain issues. That being said, nobody can say this car doesn't get driven hard! Next time, burnouts for sure though.
Check out the rest of the shots below, and mark your calendars for Desert Meihan II at Wildhorse Pass Motorsports Park in Chandler, AZ December 1st and 2nd! Something tells me Devon and myself will both be there.